Shop with a Purpose. Donate. Change Lives!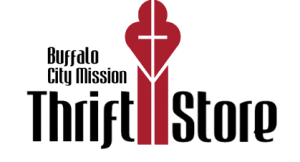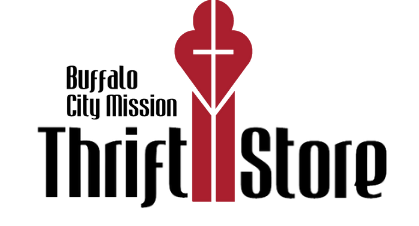 you make our thrift store possible
Our Thrift Store reflects our mission for over 100 years: Helping our neighbors in need however we can.
Shopping at the Buffalo City Mission Thrift Store is a great way to help those who are struggling with poverty and homelessness. Our Thrift Store is locally operated and benefits people in need in Western New York.
You'll be blessed to know that for every $2.40 spent at our store, you're providing a meal to a man, woman or child experiencing hunger and homelessness. That's right – the money spent on the amazing items in our Thrift Store is given right back to our community in need!
What You'll Find & Where to find us
The Buffalo City Mission Thrift Store is packed with high quality, gently used clothing, furniture, appliances, housewares, accessories and much more. With new items arriving daily, we're constantly rotating our current items to provide you with the newest and best shopping experience possible.
Our Thrift Store Warehouse also employs our long-term residents, giving them valuable work training and experience for future success after they graduate.
Where: Located at 510 Dick Rd. in the Dick-Urban Plaza in Depew, NY.
Color Tag Sale of the Week
Each week we will be offering a new color tag
where shoppers can receive 50% off key items throughout the store!

Location & Hours
Buffalo City Mission Thrift Store
Hours of Operation
Tuesday to Friday: 9am-4pm
Saturday: 9am-6pm
Ask about our Rewards Card during your next visit to start earning extra savings when you shop!
Tell us about your experience with our Thrift Store and save $5 off your next purchase of $25 or more. Sale items excluded.

Donate your gently used furniture
And help make a huge impact for those in our community who need it most!
Large Items Or A Lot Of Donations
Contact us today and we'll be happy to schedule a pickup.
Ready to Volunteer?
See how you can make a big difference in the lives of those we serve.